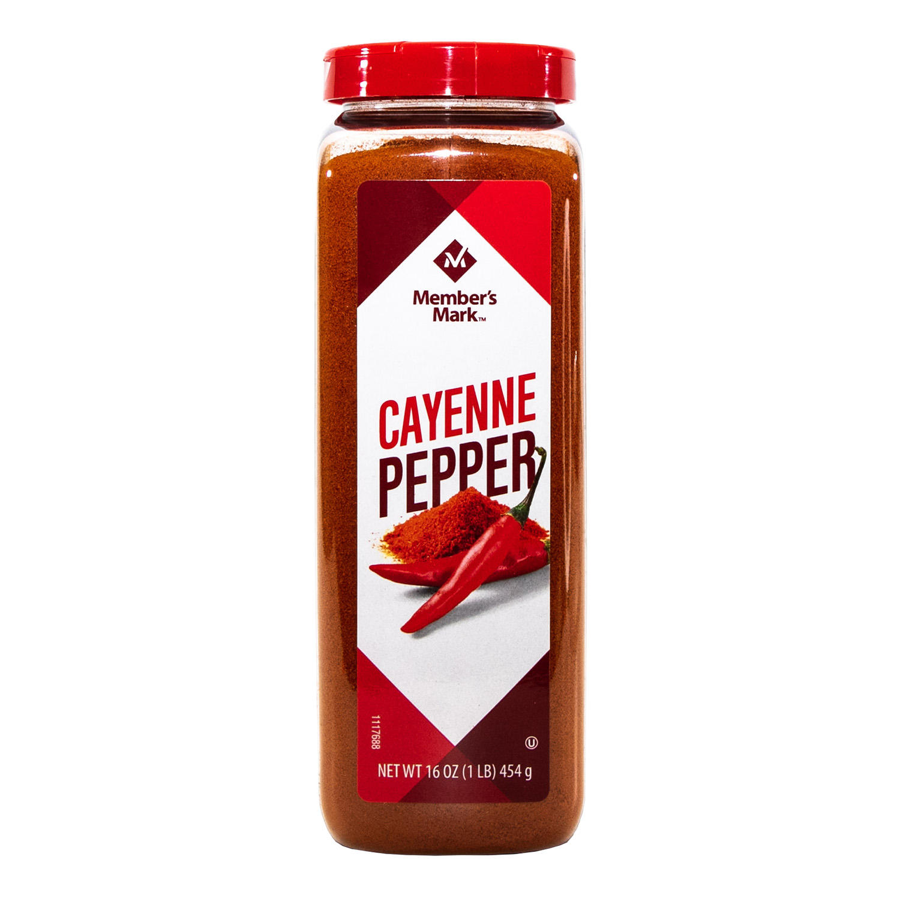 Organic cayenne pepper is an extremely versatile spice that can be added to virtually any dish to give it a burst of heat and flavor. It can be used in sauces, glazes, in dry rubs or even applied directly to items themselves. You can make spicy beef kabobs with your choice of vegetables all sprinkled with a mixture of garlic, onion and cayenne. You can also go Mediterranean and make a shrimp, clams and scallops pasta by tossing those items in a spicy tomato sauce that has been seasoned with oregano, garlic, black pepper, and plenty of cayenne pepper.
About this item:
Hot, spicy cayenne pepper
Economy size 16-oz. container
Comes in a convenient shaker
Use in a variety of dishes
3-year to 4-year shelf life
Add a kick to your dish with Member's Mark™ Cayenne Pepper. This is 100 percent cayenne pepper, a spice that has been beloved for thousands of years. Several cultures have embraced the flavorful heart of cayenne pepper, from traditional Chinese dishes to Cajun cuisine like jambalaya and gumbo. Member's Mark™ Cayenne Pepper adds an incredible kick to sauces, glazes, and dry rubs, as well as seafood, meats, and veggies. This product has 28,000-40,000 Scoville Heat Units (SHU). Use sparingly, as this product is very hot. Be sure to use care when cooking with this product, as it will burn if it gets in eyes or cuts. Start by using just a dash per serving, and adjust from there. Member's Mark™ Cayenne Pepper is an extremely versatile spice. This cayenne pepper is packaged in a recyclable 16-ounce container. For best flavor and freshness, keep Member's Mark™ Cayenne Pepper at room temperature, away from moisture, and out of any direct sunlight. Member's Mark™ Cayenne Pepper is a pantry staple and should be in every home's spice rack or kitchen cabinet. Wake up your food with the bold, spicy, and unique kick that cayenne pepper can add to so many of your favorite dishes!