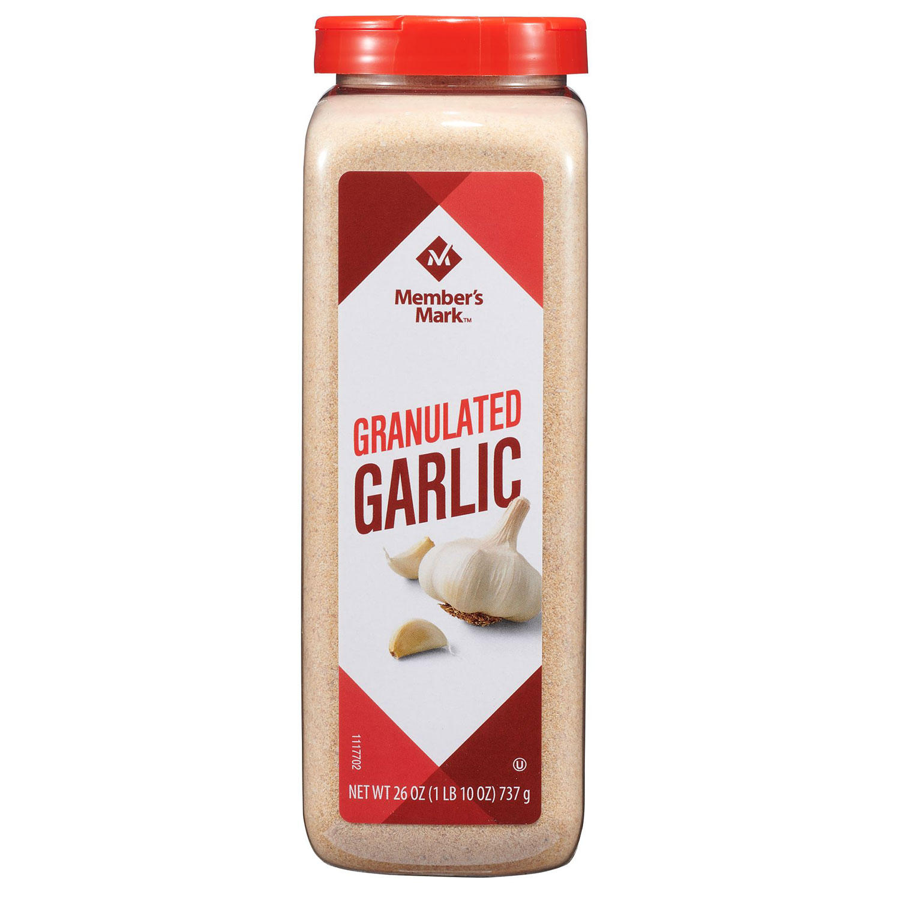 Give your vegetables a little kick with a sprinkle of Member's Mark™ Granulated Garlic. Add flavor to vegetables with a little olive oil, salt, pepper, and garlic. You can also season zucchini and summer squash with it and then roast them in the oven for a delicious and healthy side dish. Its thick texture works well in stews, soups and chilis. You can also mix it with chili powder, onion powder, paprika, cumin, salt and other spices to create a great rub for steak, chicken, or fish.
About this item:
Versatile granulated garlic
Economy size for families or commercial kitchens
Complements a wide range of dishes
Convenient shaker
Flip-top, recyclable plastic bottle
Add savory flavor to any dish with Member's Mark™ Granulated Garlic. It's ideal for all types of cuisine, especially recipes like spaghetti, chowders, quiche, and meatloaf. Use it in your home or commercial kitchen. Member's Mark™ Granulated Garlic makes it simple to add a rich, Italian flavor to breads, bread sticks or focaccia. It's also delicious on pasta, chicken, or salads. Made from coarsely ground dried garlic, Member's Mark™ Granulated Garlic has a longer shelf life than fresh or minced garlic. Garlic granules are coarsely ground and less likely to clump than garlic powder. Are you curious about the difference of garlic powder and granulated garlic? Granulated garlic's course texture makes it easier to combine with liquids, which makes it perfect for salad dressings, sauces, and soups. It also is an excellent ingredient in spice rubs, as it mixes more evenly with other spices. When you're looking to substitute garlic powder for granulated garlic, remember that 1 tsp of garlic powder equals 2 tsp of granulated garlic. Additionally, one clove of fresh garlic is equivalent to ½ tsp of granulated garlic. Member's Mark™ Granulated Garlic is packaged in a 26-ounce economy-sized shaker with a convenient flip-top.