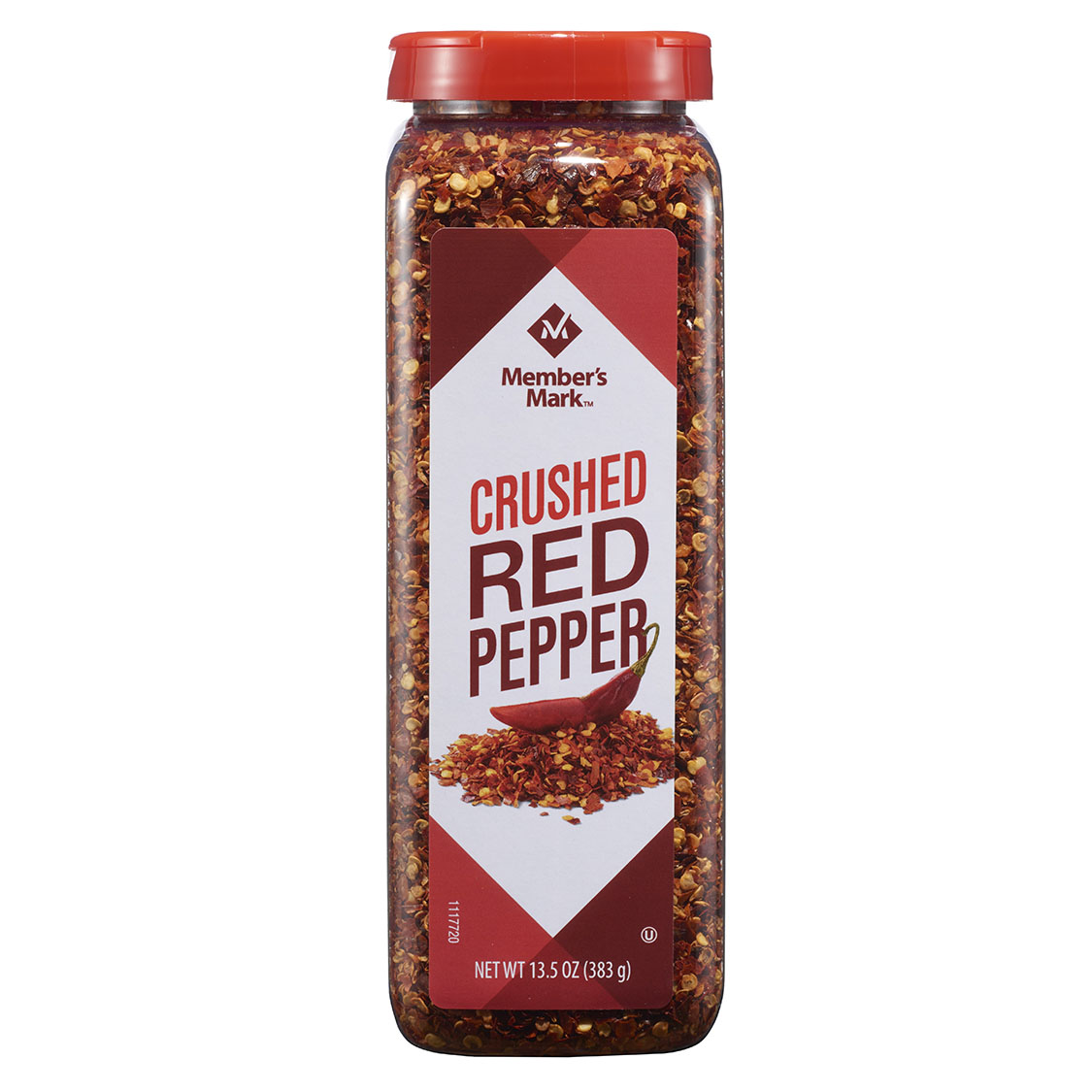 Crushed red pepper is often referred to as the "pizza pepper" since a common use is as a tabletop shake-on for pizza and pasta dishes. Use in sauces and soups, or add to a pickling blend.
About this item:
Hot, delicious crushed red pepper
Economy-size bottle features a convenient shaker-top
Packaged in a clear, recyclable plastic bottle
Exclusively sold at Sam's Club
"Member's Mark™ Crushed Red Pepper is one of our most popular spices. Member's Mark™ Crushed Red Pepper brings that touch of heat that provides a fiery, invigorating taste to everything from a slice of pizza to pasta and rice dishes. Crushed red pepper can best be described as hot, red pepper flakes; it is actually the dried fruit pod and seeds of a capsicum pepper. The flavor is hot, pungent and biting. Member's Mark™ Crushed Red Pepper has 15,000-30,000 Scoville Heat Units (SHU). Crushed red pepper is used by major food manufacturers in pickling blends, chowders, spaghetti sauce, pizza sauce, soups and sausage.
Red pepper flakes add in a good taste of spice to pizzas and make them even more mouthwatering. If you're tired of using pepper flakes on pizzas, then you should try topping your spaghetti and meatballs with them. Just roll your meatballs in these spicy flakes and create the best spaghetti ever. As a table condiment. One of the places that you are most likely to see crushed red pepper is in pizza restaurants. Crushed red pepper derives from red chili peppers, which are a part of the Solanaceae family, first found in Central and South America and have been harvested for use since about 7,500 BC. Southern Italians popularized crushed red pepper beginning in the 19th century and heavily used them in the U.S. "