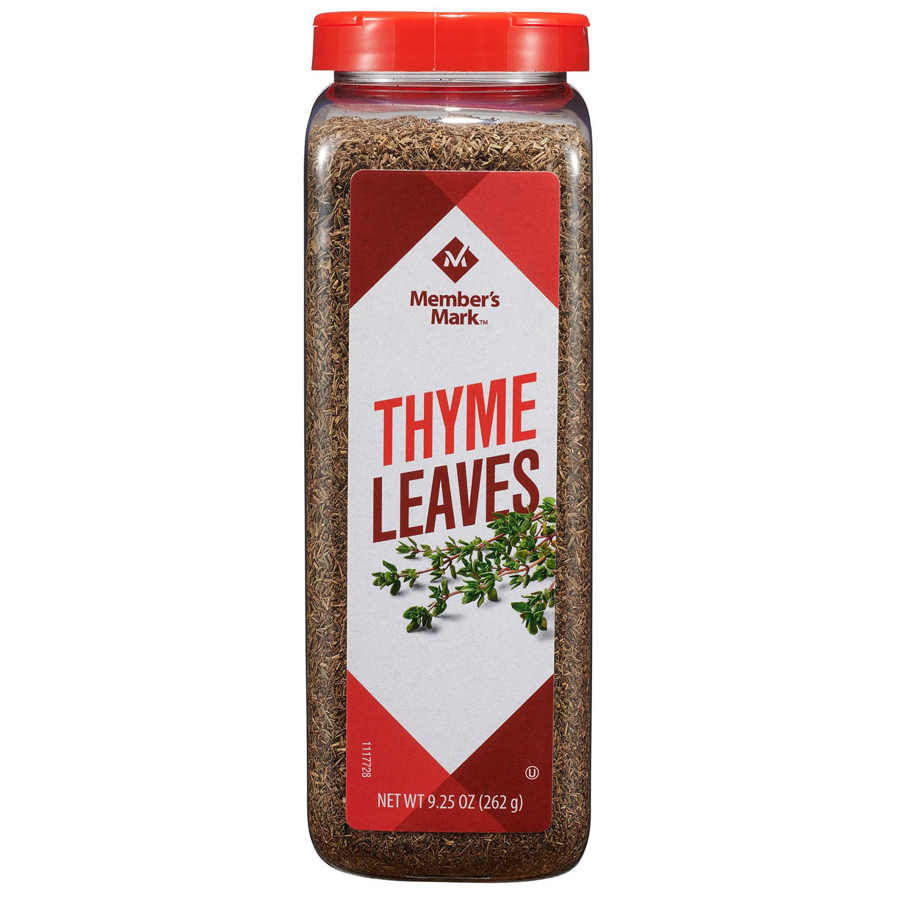 Great in rubs for poultry, pork, or roasts. Also key in pasta sauce and pizza. Pairs nicely with fresh tomatoes and olive oil. Store in a cool, dark, dry place for optimal flavor.
About this item:
A must-have pantry staple, Member's Mark™ Thyme is an essential kitchen herb. Useful in a variety of recipes, it adds a fresh herbaceous flavor.
Member's Mark™ Thyme Leaves add an aromatic, earthy hint of flavor to a wide range of foods. Pair thyme with herbs like oregano for a delicious and distinctly Mediterranean taste. Packaged in a generous 9.25-ounce shaker jar, Member's Mark Dried Thyme Leaves are a true pantry essential. Member's Mark™ Thyme Leaves can be combined with seasonings like oregano, garlic, basil and rosemary and sprinkled over homemade bread. Thyme is typically used in savory dishes like braised or roasted meat, vegetables, or fish, as well as in savory baking. It can also be used to add flavor and depth to marinades, soups and stocks, cocktail elements, and teas. Fresh thyme can be added to a recipe whole with the stem, or the leaves can be removed from the stem and then sprinkled into a dish. If a recipe calls for a "sprig" of thyme, the leaves and stem should be kept intact. Thyme is an herb whose small leaves grow on clusters of thin stems. Thyme is used to season all kinds of dishes, either by itself or as part of a blend or bouquet garni alongside other common herbs like rosemary, sage, and marjoram. Thyme is a Mediterranean herb with dietary and ornamental uses.