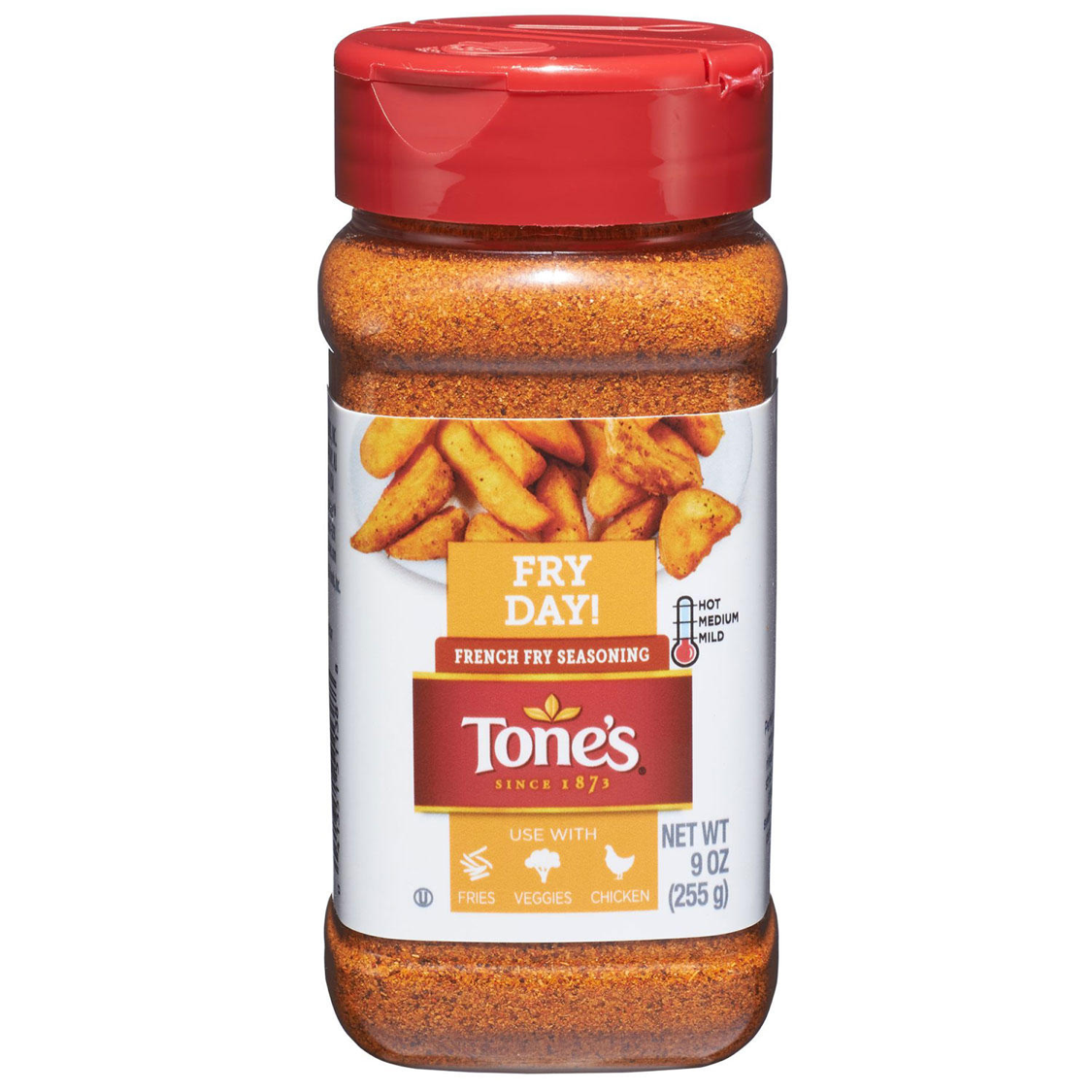 This seasoning is perfect for your french fries, tater tots, and chicken. For a bold dish, sprinkle it on some vegetables or mix it with sour cream to make a delicious dip.
About this item:
Kosher
Dual shake/ pour cap
Tone's® French Fry Seasoning is the perfect zesty blend for all of your potatoes, veggies, and chicken! The blend includes the delicious flavors of chili pepper, garlic, onion, brown sugar, celery seed, salt, and sugar. While most commonly used on French fries, this blend is great because it is so versatile and can be added to all of your favorite dishes!
Try adding Tone's® French Fry Seasoning on potato wedges, roasted veggies, fried chicken, fried fish, and even shrimp! Use Tone'® French Fry Seasoning to create delicious Tone'® Fryday Crispy Shrimp. Preheat the air fryer to 390 degrees. Blot the shrimp with a paper towel and set aside. Get out 3 shallow bowls. To the first one, add the flour and Tone's® Fryday Seasoning, and then whisk. Add the eggs to the second bowl, and then whisk. Add the panko breadcrumbs to the third bowl. Using a fork, toss 1-2 shrimp at a time in the flour mixture. Then coat the shrimp in the eggs, and finally dredge through the panko. Repeat with the remaining shrimp. Arrange the shrimp in a single layer on the air fryer pan. Cook for 5 minutes. Remove from the air fryer and lightly spray the tops of the shrimp with cooking spray. Return shrimp to the air fryer and cook for 5 more minutes. Work in batches until all the shrimp have been cooked.