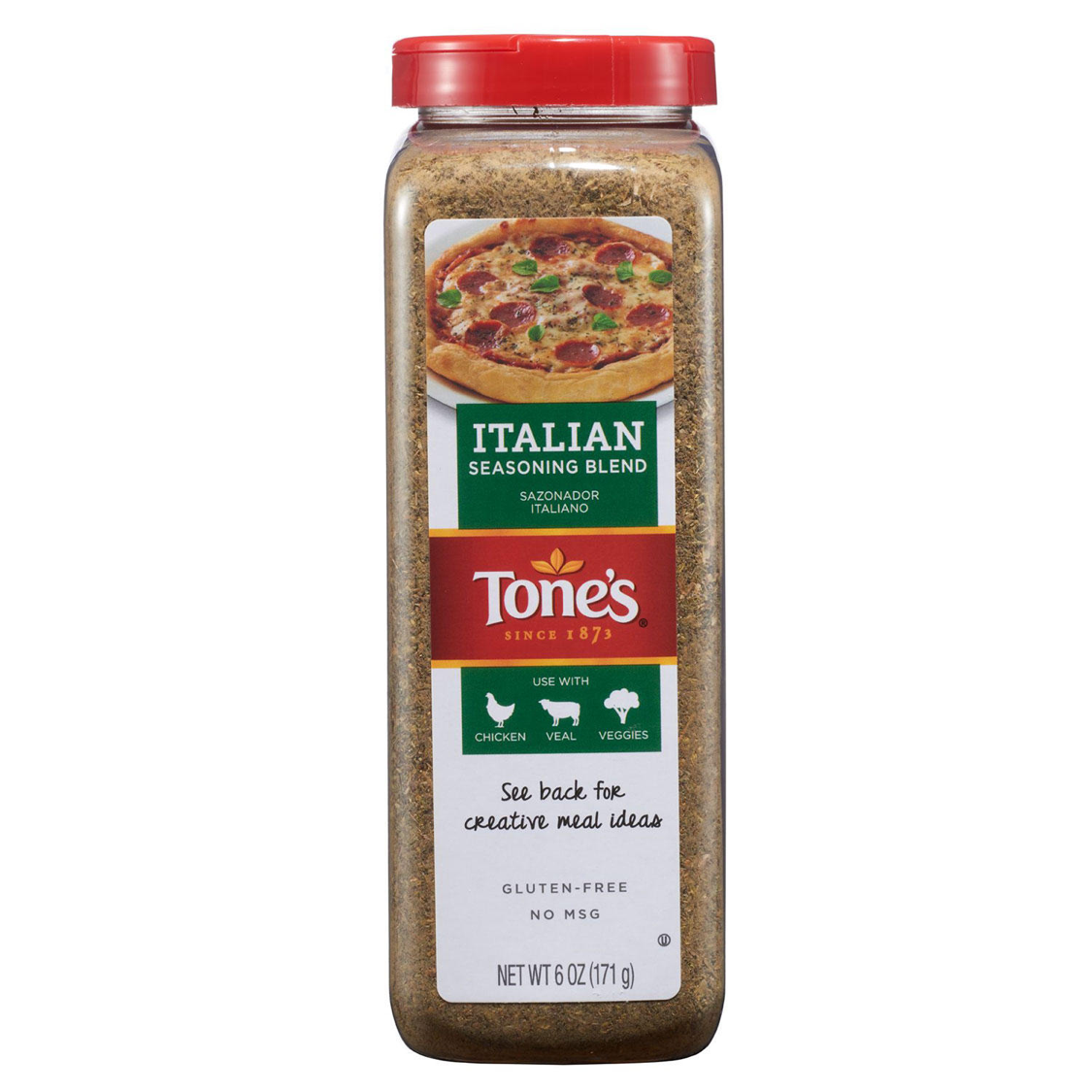 Mix with tomato sauce for pizza, marinara sauce, minestrone, calzone, and all Italian dishes. Sprinkle on bread dough with olive oil for a quick and appealing focaccia bread. Excellent for bread sticks, dips, chicken, baked fish, vegetables, egg dishes, stuffings, and soups
About this item:
A classic blend of oregano, thyme, basil, rosemary, and sage.
Tone's® Italian Seasoning blend features a flavorful, yet classic mix of oregano, marjoram, thyme, basil, rosemary, and sage. The fresh, earthy flavors from each herb shines with each sprinkle or shake of this delicious blend. This seasoning is perfect for your favorite Italian dishes, such as pastas, meatloaf, meatballs, lasagna, pizza and more. It can also be used as an everyday seasoning with dishes such as baked chicken, grilled potatoes and peppers, soups, jambalaya, and biscuits.
You can also explore Mediterranean recipes with this delicious blend. The herbs in this Italian blend compliment the fresh vegetables, beans, seafood, and meat found in Mediterranean dishes. Sprinkle some on a watermelon and feta cheese salad or top some fresh mussels with a dash of seasoning. The herbs in the seasoning will bring out the delicious savory flavors in your dish.
The recipes are never ending with this versatile blend. Whether you're creating your own pasta sauce or trying to add more flavor to your veggies, Tone's® Italian Seasoning is a must have in your kitchen.
The blend is all natural, gluten free, salt free, and features no MSG. The Tone's® bottle is a tall economy size, so it's sure to last you through a ton of Italian dinners and everyday uses.