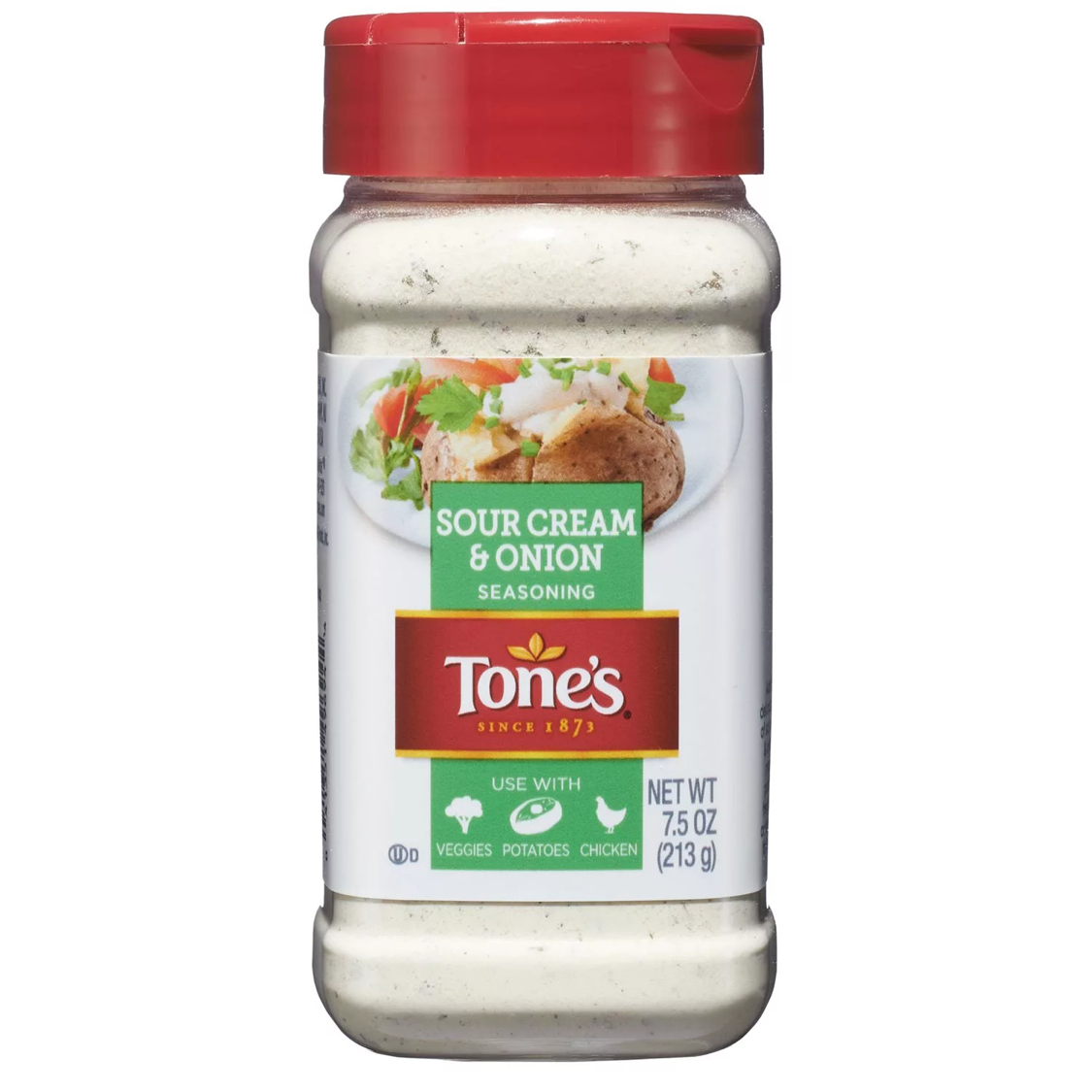 This seasoning is most commonly used on potatoes and roasted vegetables, but it is also delicious on popcorn, chicken, and even mixed in a vegetable dip!
About this item:
Kosher
Dual shake/ pour cap
Tone's® Sour Cream & Onion seasoning blend is an easy way to add that classic flavor to your favorite dishes including mashed potatoes, roasted vegetables, popcorn, potato chips and more. You can also mix a little mayonnaise and sour cream with this Tone's® Sour Cream & Onion Seasoning to make a delicious veggie dip!
One recipe that uses the Tone's® Sour Cream & Onion blend uniquely is Tone'® Sour Cream and Onion Alfredo Pasta. Cook pasta according to package directions. Meanwhile, melt 3 tbsp of butter in a large skillet. Whisk in 2 tbsp of flour. Slowly pour in 1 cup of milk while continuously whisking. Add ¾ cup of sour cream, 3 tbsp of Tone's® Sour Cream and Onion Seasoning, Member's Mark™ Peppercorn Medley, and Member's Mark™ Himalayan Pink Salt. Whisk the sauce, then pour in the cooked pasta. Stir the pasta until coated, and then top with fresh chives.
This blend is packaged in a 7.5-ounce bottle with a dual shake and pour cap for easy use. This seasoning is kosher and great to use before or after cooking. This blend is very versatile and can be used on almost all of your favorite dishes! If you love the classic sour cream and onion flavor, you will love this blend!