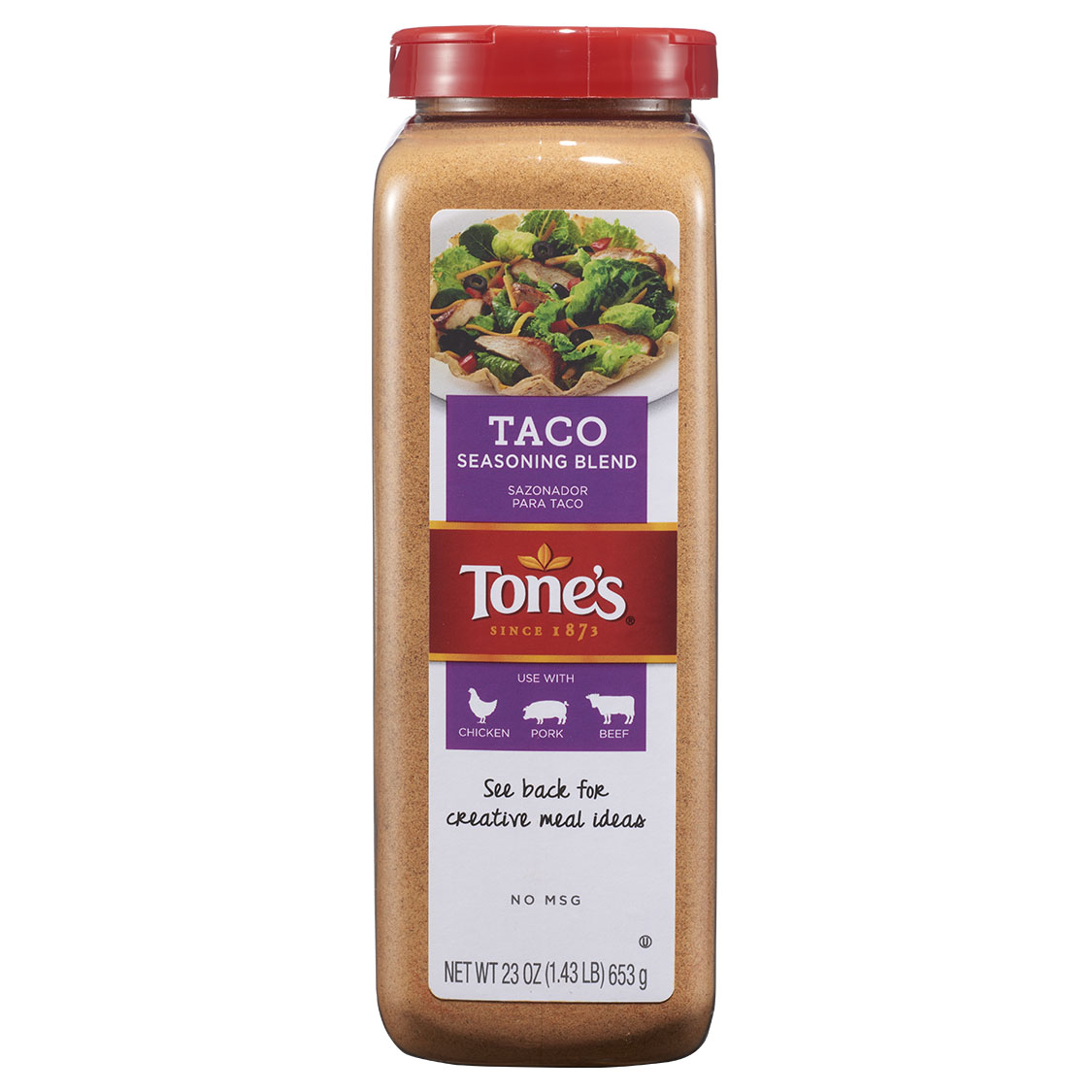 This blend is perfect for a taco, burrito, or enchilada night! Try using it to season meat or vegetables for a kick of flavor.
About this item:
Gluten free
No MSG
Kosher
Unlike other taco seasonings, this Tone's® Taco Seasoning blend has the perfect ingredients to enhance any dish. The spice of chili peppers, Mexican oregano, garlic salt and a hint of cayenne will elevate your classic taco, burrito, tamales, quesadillas, and more!
There are many ways to use Tone's® Taco Seasoning, but one delicious way is through Tone's® Chicken Fajitas! Generously sprinkle the Tone's® Taco Seasoning on both sides of the chicken and use your fingers to press it in. Heat a large skillet over medium heat and lightly coat it with a drizzle of olive oil or avocado oil. Sear the chicken breasts for about 7-8 minutes on each side. Then remove them from the pan and let them rest for a few minutes before slicing into strips.
While the chicken is cooking, cut the bell peppers and onions into thin slices. Then sauté them in the same skillet over medium heat for a few minutes until caramelized. You're essentially making fajita veggies. Add the chicken back into the skillet, squeeze fresh lime juice on top and stir everything together. Serve immediately with tortillas and extra toppings.
This 23-ounce blend is in an economy sized bottle with a dual shaker and pour cap for your convenience. Whether you're using the Tone's® Taco Seasoning for a small family taco Tuesday or feeding many at a nacho party, the economy sized bottle will ensure your dishes are bright and flavorful!