ICYMI, it's the last day of Amazon's much-anticipated annual Prime Day deals event, which began July 11 and runs through today, July 12. There are tons of markdowns on all things kitchen, from small appliances and cookware to dinnerware and kitchen gadgets. Lucky for you, we narrowed down some of our favorite kitchen tools and gadgets to help improve your chef game!
Make sure you have a Prime membership (sign up for a free 30-day membership here) to see the deals and shop.
Instant Pot® Duo™ Plus-6 Quart: $69.99
BUY NOW ON AMAZON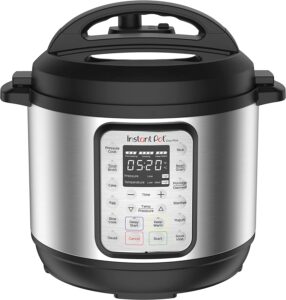 As a member of the bestselling Duo™ family, the Instant Pot® Duo™ Plus is simple-to-use, versatile and convenient. Taking the place of 9 separate cooking appliances, including pressure cooker, slow cooker and sous vide, it has 15 Smart Programs to help you get started quickly and easily. With a redesigned control panel, you see cooking status at-a-glance, and easily control every step.
---
Stasher Reusable Silicone Storage Bags: $38.49
BUY ON AMAZON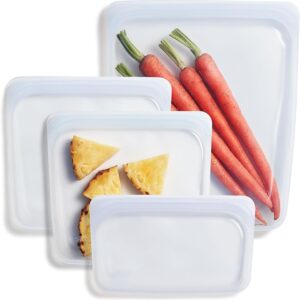 It's time to rethink plastic. Meet the first and only Self-Sealing, air-tight, non-plastic bag in the world. Fun. Functional. Reusable. Responsible. 100% pure platinum food grade silicone bags are the healthy alternative to plastic. Join the plastic-free movement.
---
Wüsthof Classic Hollow Edge 2-Piece Chef's Knife Set, 6 & 3.5-inch: $129
BUY NOW ON AMAZON

The WÜSTHOF 6" Hollow Edge Classic Chef's Knife is essential for preparing any meal and the 3.5″ hollow edge paring knife is perfect for any detail work, peeling and slicing. These all-purpose knives can be used for chopping, mincing, slicing and dicing.
---
Lavatools Javelin PRO Duo Ambidextrous Backlit Professional Digital Instant Read Meat Thermometer: $44.79
BUY NOW ON AMAZON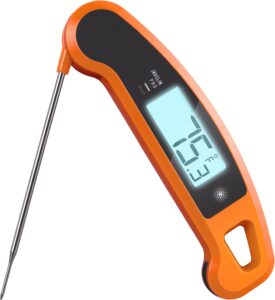 It's time to expect more from your food thermometer. The Lavatools Javelin PRO Duo has been radically designed with an ultra-large 2″ display with 360° viewing clarity that automatically rotates depending on how the device is held. It's also the first food thermometer that has an intelligent stabilization alert which notifies you and holds the readout when it has settled.
Our product is NSF approved for commercial and professional use. We use high-quality impact-resistant polymers to prevent warping and cracking. The Javelin digital meat thermometer can survive 4,000+ hours of continuous use on a single change of battery. Javelin PRO Duo is the food thermometer all other thermometers look up to.
---
FinaMill's Award-Winning Battery-Operated Pepper Mill & Spice Grinder: $35.99
BUY NOW ON AMAZON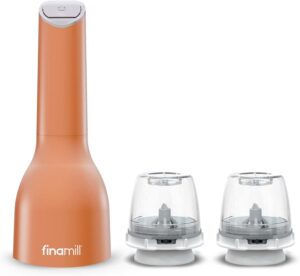 Introducing FinaMill, the only kitchen mill that uses interchangeable and refillable spice pods. Snap a FinaPod in place, grind the amount of spice you need with the push of a button. Changing spices is easy, click in another FinaPod, grind and savor, all with one hand.
---
VEKAYA 5 in 1 Rotary Cheese & Veggie Grater: $22.99
BUY NOW ON AMAZON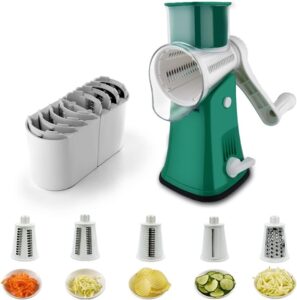 Featuring a convenient handle and five interchangeable stainless steel blades, this cheese grater can handle all your shredding and grating needs. Whether you're grating cheese for a delicious pasta dish or shredding vegetables for a nutritious salad, this versatile tool ensures efficiency and precision.
The hand crank mechanism allows for effortless operation, saving you time and energy. No more struggling with traditional graters that require excessive force and leave you with tired hands. Simply turn the handle and let the rotating blades do the work for you.