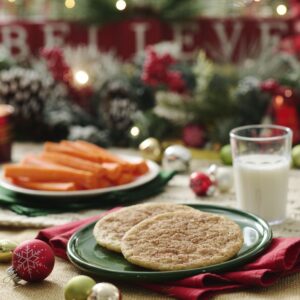 SNICKERS™ Shakers Sugar Cookies
It is the time of year where calendars are full, schedules are crazy, and maybe the tempers are short (it happens to all of us).  But it's hard to say no to your annual cookie exchange or to volunteering to supply goodies for the kids' school holiday parties.  We know you have a lot on your plate right now, so we're going to give you a tip - it's ok to use pre-made dough for your Christmas cookies! 
Before you faint with disbelief, hear us out: if you take your basic sugar cookie dough (like Pillsbury™ Ready to Bake Refrigerated Sugar Cookie Dough) and sprinkle it with SNICKERS™ Shakers Seasoning Blend, you have an incredibly simple treat that's unique, too! SNICKERS™ Shakers Seasoning Blend is a brand new product that is packed with cocoa, peanuts, and caramel flavor – just like your favorite candy bar.  It's the perfect way to make even the simplest cookies more special.  You can use it for more than just cookies, too! Try SNICKERS™ Shakers Seasoning Blend on drinks (like hot chocolate, YUM), as well as ice cream, other types of cookies, milkshakes, yogurt, pancakes, waffles, and more to enhance the flavor profile.
If you want to make your cookies from scratch, try updating your traditional snickerdoodle recipe with SNICKERS™ Shakers Seasoning Blend!  To do this, substitute the sugar and cinnamon mixture that you usually roll the cookie dough balls into with about 4-1/2 tablespoons of SNICKERS™ Shakers Seasoning Blend, and bake as usual.
One last thing to consider – these cookies are so simple, so why not encourage the kids help you out?  If you tell them they're for Santa, they'll be even more enthusiastic to assist you in the kitchen! 
This holiday season, do yourself a favor – don't make things too hard on yourself.  Your life will be a little less hectic (and a little more delicious) with SNICKERS™ Shakers Seasoning Blend in your pantry!
Ingredients
1

package

Pillsbury™ Sugar Refrigerated Cookie Dough

SNICKERS™ Shakers Seasoning Blend, as desired

1/4

cup

All-purpose flour, if making cutout cookies
Instructions
Preheat oven to 350ºF (or 325ºF for nonstick cookie sheet).

Cut dough into 1/2-inch slices. Place 2 inches apart on an ungreased cookie sheet.

Sprinkle each cookie with a dusting of SNICKERS™ Shakers Seasoning Blend.

Bake 11 to 14 minutes, or until edges are light golden brown. Cool for 2 minutes; remove from cookie sheet.

For cutout cookies, knead 1/4 cup all-purpose flour into dough. Roll on floured surface until 1/4 inch thick. Cut with 2 1/2-inch cutter. Bake 8 to 11 minutes.
Video