What is Irish Soda Bread?
Irish Soda Bread is a quick bread traditionally made in Ireland that does not require any yeast. Instead, all of its leavening comes from baking soda and buttermilk. It usually contains four basic ingredients: flour, baking soda, salt, and buttermilk. Other ingredients are often added to enhance the flavor of the bread, such as sugar, butter, eggs, raisins and citrus. The bread is shaped into a loaf, then scored with an X pattern and baked until golden brown. It's perfect with soups and stews of all kinds!
Tips for the Perfect Loaf
Use a pastry blender to cut the shortening into the dough. If you don't have a pastry blender, two forks will do the job.
If you don't have buttermilk on hand, you can make your own. Combine 2 cups of milk with 2 tablespoons of lemon juice. Let the milk sit for about 10 minutes or until the mixture looks curdled, then proceed with the recipe.
The dough will be sticky and soft. Use flour on your hands and on your work surface as needed to keep the dough from sticking and to form a nicely shaped loaf.
Don't over-work the dough. It's supposed to look a little shaggy.
Score the top of the dough with an "X" before baking. This helps the center bake through.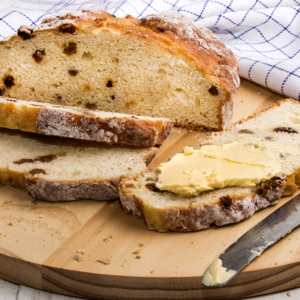 Irish Soda Bread
Irish Soda Bread is a quick bread that does not require any yeast. This traditional recipe has the flavors of caraway and raisins and is best served fresh from the oven!
Ingredients
4

cups

All-purpose flour

1/4

cup

Sugar

1

tbsp

Clabber Girl® Baking Powder

1

tsp

Caraway seed

1

tsp

Clabber Girl® Baking Soda

1/4

cup

Crisco® shortening

1 1/2

cup

Raisins

1

Egg

1 1/2

cup

Buttermilk

1

Egg white
Instructions
Mix flour, sugar, baking powder, caraway seed, salt, and baking soda in large mixing bowl. Cut in shortening until mixture resembles coarse crumbs.

Stir in raisins, egg, and buttermilk; mix until ingredients are just blended (dough will be somewhat dry).

Turn out onto well floured surface and with floured hands knead dough 8 to 10 strokes. Shape dough into a ball; place in greased 2 quart round casserole dish. Brush dough with egg white.

Bake 1 hour and 20 minutes, or until toothpick inserted in center comes out clean. (Cover top of bread with foil after 1 hour of baking to prevent over browning).

Cool bread in casserole dish 10 minutes. Remove bread from casserole and cool completely on wire rack.
Notes
Golden currents can be substituted for the raisins! Or leave them out completely, your choice!