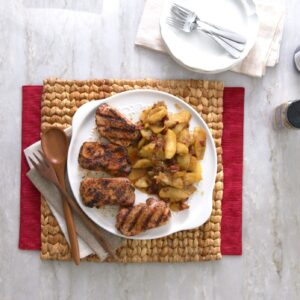 Grilled Chops with Apple and Bacon Sauce
If you're tired of throwing the usual steak and chicken on the grill, why not try some pork chops?  Tart apples make a delicious accompaniment to this classic and simple dish.  
Ingredients
3

strips

Bacon

3/4

cup

 Onion, chopped 

2

 Tart apples, peeled, cored, and sliced ¼-inch thick 

1/4

cup

 Brown sugar 

1

Tbsp

Cider Vinegar

1/2

tsp

Weber® Steak 'N Chop Seasoning 

1

Tbsp

Butter

4

Center cut pork chops, 1 to 1-1/2 inches thick 

2

Tbsp

Weber® Steak 'N Chop Seasoning 
Instructions
Cook bacon in large skillet over medium heat until bacon is crisp; remove and crumble when cool. 

Add onion to skillet and cook for 1 to 2 minutes. Add apples and cook 4 to 5 minutes until apples are tender. 

Add brown sugar, vinegar, 1/2 teaspoon Weber® Steak 'N Chop Seasoning and bacon; mix well. Remove from heat; stir in butter. Cover while grilling chops. 

Rub 2 tablespoons Weber® Steak 'N Chop Seasoning onto both sides of pork chops. 

Grill over Direct Medium heat, turning occasionally for 20 to 25 minutes, until pork is cooked through and internal temperature is at least 150°F. 

Remove from grill; warm Apple and Bacon Sauce before serving. 
Video