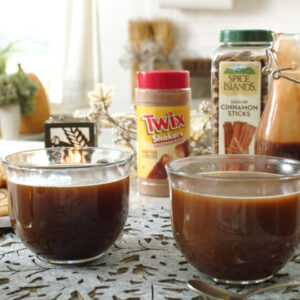 Twix® Simple Syrup
Here is an easy, and we mean EASY, way to jazz up your morning coffee. Twix® Simple Syrup takes just minutes to make, and it takes coffee to a whole new level. But don't stop at just coffee! You can use it on ice cream, in holiday cocktails, or wherever you think needs a little chocolate/caramel update.
Ingredients
1

cup

Water

1

cup

Twix® Shakers Seasoning

1

Spice Islands® Saigon Cinnamon Stick, optional
Instructions
In a small saucepan, add the water and Twix®Shakers Seasoning.  Bring the mixture to a boil.  Simmer for around 10 minutes, stirring constantly until it melts together and forms a syrup.  Cool; then pour into a sanitized glass bottle or airtight container.  Add 1-2 tablespoons with your coffee, or try on pancakes, waffles, or French toast!
Video