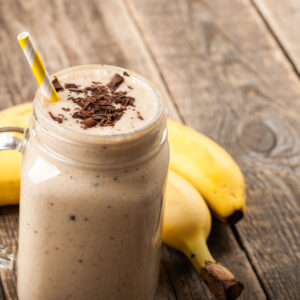 Twix® Banana Smoothie
Is it a milkshake? Is it a smoothie? It doesn't matter what it is when it tastes this good! This Twix® Banana Smoothie is the perfect way to start your day. Bananas, Greek yogurt, milk, and maple syrup are blended together with the special ingredient - Twix® Shakers Seasoning Blend.
Ingredients
1/3

cup

Milk of your choice

1/4

cup

Greek yogurt

2

medium

Ripe bananas, room temperature

1-1/2

cups

Ice

1-2

tbsp

Twix® Shakers Seasoning Blend, to taste

1-1/2

tbsp

Maple syrup, to taste

1/2

tsp

Vanilla extract
Instructions
Place all ingredients in a blender in the order listed, breaking the banana into pieces. Start with 1 tbsp of Twix® Shakers Seasoning Blend and add more if you prefer. Blend until creamy and frothy, stopping and scraping down the sides as necessary. Add a bit more liquid if the smoothie seems too thick. Serve immediately or store in a covered jar in the refrigerator for 2 days.