Frittatas are the perfect breakfast or brunch food.  You might be thinking this is a bold statement to make (especially when you consider other breakfast foods like pancakes, waffles, French toast, and omelets), but let us tell you the reasoning behind our thoughts.
Frittatas serve around 4 people (unless you plan on eating a lot).  That makes them perfect for hosting a breakfast or brunch party, or a holiday event like Easter (just cut the slices smaller since there will most likely be other food served as well).
Frittatas are completely customizable.  Much like an omelet, you can throw whatever ingredients you like in the pan (including eggs, of course).  You can make this recipe with the ingredients we suggest, or try it with some other mix-ins.
As mentioned earlier, frittatas are scrumptious just like omelets, but so much easier to make!  First, there is no flipping involved.  Second, frittatas don't require you to stand at your stove making each individual person their food.  While frittatas do involve some stovetop cooking, most of its time is spent in the oven!
Frittatas are easier and healthier than quiche….and maybe even more delicious!
Now that we convinced you that a frittata needs to be your next menu item, let's have some more frittata talk:
All frittatas require a simple base mixture made of eggs and milk.
Next, you sautee your veggies in a cast iron skillet (this type of skillet is a must-have since it will be going directly from stovetop to oven).
Be sure to add herbs and seasonings into the frittata for maximum flavor.  In this recipe, we are using Einstein Bros™ Everything Bagel Seasoning, yum!
If you feel like experimenting with mix-ins, remember that a good veggie to egg ratio is ¼ cup of veggies per egg.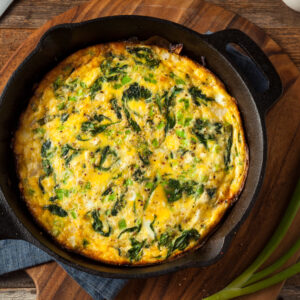 Smoked Salmon Frittata with Everything Bagel Seasoning
Are you ready to make this scrumptious Smoked Salmon Frittata with Everything Bagel Seasoning? Speaking of bagels….frittatas pair excellently with bagels.  Just saying!
Ingredients
6

Eggs, large

1/4

cup

Milk of your choice

1

tbsp

Einstein Bros™ Everything Bagel Seasoning

1/2

cup

Feta cheese, divided

1/2

tbsp

Olive oil

6

Scallions, chopped

2

cups

Spinach

7

oz

Smoked salmon, cut into small strips
Instructions
Preheat the oven to 350°F.

In a medium bowl, whisk the eggs, milk, Einstein Bros™ Everything Bagel Seasoning, and 1/4 cup of the feta cheese. Set aside.

Heat the olive oil in a 10- or 12-inch cast iron skillet over medium heat. Add the scallions and spinach, and sautee until the spinach is wilted.

Add the egg mixture to the pan and gently shake until everything is evenly distributed. Place the strips of smoked salmon evenly across the top of the egg mixture. Sprinkle with the remaining feta cheese and additional Einstein Bros™ Everything Bagel Seasoning, if desired.

Bake for about 18-20 minutes, or until the eggs are set in the center.