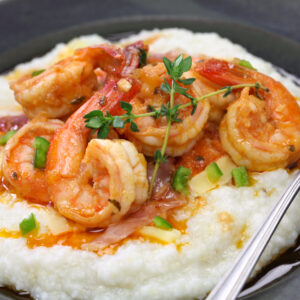 Summertime Shrimp & Grits
Nothing beats shrimp and grits, especially on a summer's day! While there are many ways to make this recipe, our version uses Dash™ Original Seasoning Blend to add a unique and not-so-spicy flavor the whole family can enjoy.
Ingredients
For the Shrimp
1

tbsp

Member's Mark™ 100% Pure Olive Oil

2

slices

Turkey bacon, finely diced

1

large

Celery stalk, finely diced

1

medium

Green bell pepper, finely diced

1

medium

Sweet onion, finely diced

2

cloves

Garlic, finely chopped

1

medium

Tomato, seeds removed, diced

2

tsp

Dash™ Original Blend

1

pinch

Member's Mark™ Cayenne Pepper

1/8

tsp

Member's Mark™ Paprika

1

cup

Reduced-sodium chicken broth, plus 2 tbsp, divided

1

lb

Large shrimp, peeled and deveined, thawed if frozen

1

tsp

Clabber Girl® Corn Starch

4

Scallions, thinly sliced

Fresh parsley, finely chopped
For the Grits
1-1/2

cup

Low fat milk

1

cup

Corn grits

1/3-1/2

cup

Sharp cheddar cheese, finely grated

1

pinch

Member's Mark™ Whole Black Pepper Grinder

2-1/2

cup

Reduced-sodium vegetable or chicken broth
Instructions
Heat the olive oil in a large skillet over medium-high heat​. Add the turkey bacon and cook, stirring occasionally, until it starts to brown, about 2 minutes. Add the celery, bell pepper, and onion. Cooking, stirring occasionally until vegetables are tender, about 4 minutes.

Add the garlic, tomatoes, Dash™ Original seasoning, Member's Mark™ Cayenne, and Member's Mark™ Paprika. Cook for another 2 minutes, stirring occasionally.

Add 1 cup of broth and bring to boil. Arrange the shrimp evenly over the mixture and reduce heat to medium. Allow the shrimp to cook for about 3 minutes or until they start to turn pink, flipping halfway through to completely coat the shrimp in the sauce.

In a separate small bowl, mix the remaining 2 tablespoons of broth and Clabber Girl® Corn Starch. Drizzle over the shrimp mixture. Cook an additional 1 to 2 minutes or until shrimp are cooked through and the broth is slightly reduced. Finish with scallions and fresh parsley before serving.
For the Grits
In a medium saucepan set over medium heat, bring the milk and broth to a gentle simmer. While whisking, slowly pour the grits into the hot liquid.

Reduce the heat to low and simmer, whisking often until the grits become thick and creamy, about 20 minutes.

Remove the pan from the heat to whisk in the cheese and freshly ground Member's Mark™ pepper.

To serve, transfer the grits to each bowl and top evenly with shrimp.