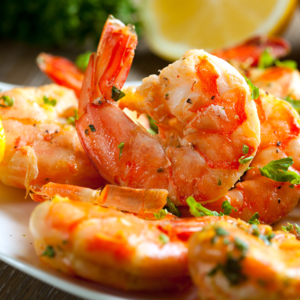 Shrimp Scampi
This easy recipe makes for the perfect fancy dinner at home! The garlic scampi sauce is given a kick of fresh flavor with a sprinkle of Tone's® Mediterranean Herb Seasoning. Serve the shrimp and scampi sauce over pasta or rice or a complete dinner!
Ingredients
1

lb

Large shrimp

Peeled and deveined

4 to 5

Large garlic cloves

Minced

Member's Mark™ Kosher Salt

3

tbsp

Member's Mark™ Extra Virgin Olive Oil

½

tsp

Member's Mark™ Crushed Red Pepper

1

tsp

Tone's® Mediterranean Herb Seasoning

3

tbp

Unsalted butter

¼

cup

Dry white wine

May be substituted with broth

Juice of ½ a lemon

Zest of 1 lemon

¼

cup

Fresh parsley

Chopped
Instructions
Pat the shrimp dry and put them in a mixing bowl. Add a pinch of kosher salt, half the garlic, and 1 tablespoon extra virgin olive oil. Toss to combine. Set aside for 15 to 20 minutes (or refrigerate for 30 mins to 1 hour).

In a large cast iron skillet, heat the remaining olive oil over medium-high heat. When the oil starts to shimmer, add the marinated shrimp mixture. Cook the shrimp for about 1 to 1 ½ minutes on each side or until it begins to turn pink. Remove the shrimp and set it aside on a plate (if some of the shrimp is still a little grey, do not worry, it will fully cook through when you put it back in the skillet).

To the skillet, now add the remaining garlic and red pepper flakes and cook briefly until fragrant (careful not to brown the garlic). Add the wine, and lemon juice and cook for a couple minutes until reduced by ½.

Add the butter and cook until melted.

Return the shrimp back to the pan and toss to coat. Allow the shrimp a couple minutes to warm through (and for any grey shrimp to turn pink).

Turn the heat off and add the parsley and more red pepper flakes if you like. Serve immediately.