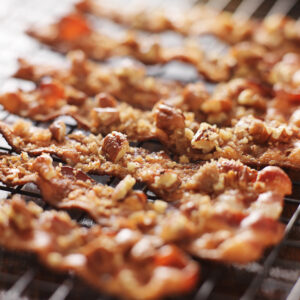 SNICKERS™ Candied Bacon
Start the morning right with this SNICKERS™ Candied Bacon recipe! This combination of SNICKERS™ Shakers Seasoning Blend, Member's Mark™Light Brown Sugar, and chopped Member's Mark Pecan Halves will bring a delicious new flavor to your typical, plain bacon. Your family will think they're at a five-star brunch when you pull these SNICKERS™ Candied Bacon strips out of the oven.
Not only will your kitchen fill with the scent of crackling bacon, sweet SNICKERS™ and brown sugar, but this recipe will become a staple for weekend breakfasts, holiday brunches, burger nights or just anytime you're craving a delicious piece of sweet and savory bacon!
The secret to this recipe is the brand new SNICKERS™ ShakersSeasoning Blend. The SNICKERS™ Shakers Blend enhances the savory slices of bacon a sweet cocoa, peanut, and caramel flavor, creating the perfect sweet and salty snack, just like the candy bar! While typically used on sweets and desserts such as ice cream, milkshakes, or cookies, the SNICKERS™ ShakersSeasoning Blend is very versatile and can bring it's sweet and nutty flavor to many of your favorite dishes! Don't believe us? Once you try it on your morning bacon, you'll never go back! You'll want to use it in your coffee, on your pork roasts, and in all of your favorite sweet desserts. SNICKERS™ Shakers SeasoningBlend is so unique because it's such a fine blend, but it will have you questioning if you're using seasoning or eating an actual SNICKERS™ bar- it's just that good!
This recipe is so easy to follow, takes no time at all, and only uses four ingredients. Once your SNICKERS™ Candied Bacon is in the oven, start your other parts of your meal, and it'll feel like it's done in no time! In less than 30 minutes your entire meal will be complete!
Ingredients
2

tbsp

SNICKERS™ Shakers Seasoning Blend

¾

cup

Member's Mark™ Light Brown Sugar

1

cup

Chopped Member's Mark™ Natural Pecan Halves

1

package

Bacon
Instructions
Preheat the oven to 375°F. Line a baking sheet with aluminum foil and set a wire rack inside the baking sheet.

Whisk together the SNICKERS™ Shakers Seasoning and Member's Mark™ Light Brown Sugar in a shallow bowl. Dredge each piece of bacon in the SNICKERS™ Shakers and Brown Sugar mixture, top with the chopped Member's Mark™ Pecans and arrange on the rack.

Bake until the bacon is glazed and almost crisp, 25 to 30 minutes. Transfer to a plate or a clean rack and cool before serving.