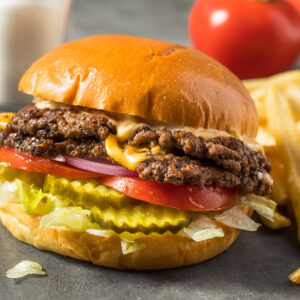 Cheddar Smash Burger with Weber® Gourmet Burger Seasoning
Skip the fast food lines and make this tasty smash burger from home! Smash burgers are thin patties of delicious ground beef that are browned to absolute perfection. You'll love how Weber® Gourmet Burger Seasoning is the perfect complement to this irresistible recipe!
Ingredients
1.5

lbs

80/20 ground beef

Butter, as needed

4

Hamburger buns

1-1/2

tbsp

Weber® Gourmet Burger Seasoning

4

slices

Sharp cheddar cheese

1

tbsp

Butter

4

pieces

Romaine lettuce

4

slices

Tomato

Sliced onion, as desired

Desired toppings, such as pickles, ketchup, mustard, mayo, etc.
Instructions
Divide the beef into 8 balls that are each approximately 3 ounces. Place them in the refrigerator until you are ready to cook them.

Preheat a cast iron skillet or griddle over medium high heat (approximately 400 degrees F).

Butter the buns and toast on the griddle for 2 minutes; set aside.

Place 1-2 tbsp on the skillet, moving it around to melt it. Then place 4 of the beef balls on the skillet. Top each one with a piece of parchment paper. Firmly press down to smash the beef into a thin patty using a burger press or a large spatula. Discard the parchment paper. Season with the patties with an even amount of Weber® Gourmet Burger Seasoning.

Cook the patties for 2 minutes, until the juices in the beef start to raise to the top and the color starts to change. Using a spatula, scrape under the patty to flip the patty. Once flipped, do not smash the patty again. Cook for 1 more minute.

Place a piece of cheese on 2 of the patties (half of them) to melt. Once the cheese is melted, top each of those patties with the cheese-less patties.

Move those patties to a separate platter and continue this process until all the patties have been prepared.

To assemble, place the lettuce, sliced tomatoes, and sliced onions on the bottom bun. Add the double patty on top, and any condiments of your preference, and top with the hamburger buns.