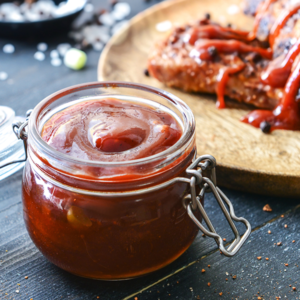 Carolina Style BBQ Sauce
In the Carolinas, vinegar-based bbq sauce reigns supreme. Making it yourself is simple, and lets you adjust the tanginess, sweetness, and spice-level. This bbq sauce is thick, tangy, slightly sweet and so finger-licking good you will want to make it again and again! Slather it on pulled pork, ribs, brisket, and anything and everything else!
Ingredients
2

cups

Bragg apple cider vinegar

1

cup

Heinz ketchup

1/2

cup

Members Mark brown sugar

1/4

cup

Valentina hot sauce

2

tbsp

Tone's chili powder

2

tbsp

Tone's whole peppercorn

1

tbsp

Morton salt

1

tbsp

Tone's red chili pepper flakes

1

tsp

Spice Islands dry mustard
Instructions
Combine all ingredients in a saucepan over medium heat. Stir until sugar and spices all dissolve. Bring to a low simmer and cook 10-15 minutes, then turn off the heat. 

Strain the sauce into a bowl to remove the chili pepper flakes and peppercorns (and discard the pepper flake sand peppercorns). Then, when cool, place BBQ sauce into a jar with a tight-sealing lid. Store in the refrigerator for up to 4 weeks. 
Notes
For more heat, add more chili pepper flakes and hot sauce, and let it sit unstrained for a period of time. For more sweetness, add some honey! Need more tang? Add in yellow mustard.