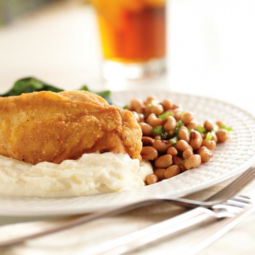 Crisco® Traditional Southern Fried Chicken
This easy recipe is a must have! It's quick, easy, and delicious. Pair it with some mashed potatoes and you have the perfect meal!
Ingredients
2/3

cup

All-purpose flour

1

tbsp

Member's Mark™ salt

3/4

tsp

Member's Mark™ pepper

3/4

tsp

Member's Mark™ paprika

3

lbs

Cut up broiler- fryer chicken

8 pieces

Crisco® Pure Vegetable Oil
Instructions
Combine flour, salt, pepper and paprika in large resealable plastic bag or shallow bowl.

Add chicken to flour mixture, two at a time, turning to coat completely. Let stand on wire rack 10 minutes to set coating.

Heat 1/2-inch deep oil to 350°F in 12-inch skillet over medium heat. Add chicken and cook, uncovered, 8 minutes. Turn chicken. Cook an additional 8 to 10 minutes or until deep golden brown and internal temperature reaches 180°F, turning chicken during the last few minutes for even browning. Drain on paper towels.

TRADITIONAL BUTTERMILK FRIED CHICKEN: Combine 3 C. buttermilk and 2 tsp. salt in large resealable plastic bag. Add chicken. Seal bag and turn to coat chicken. Chill several hours or overnight, turning bag occasionally. Drain chicken; pat dry with paper towels. Prepare as instructed above.