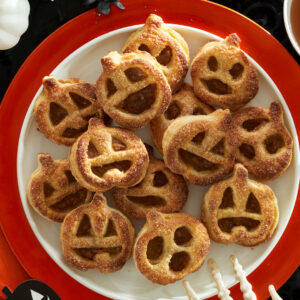 Spooky Mini Pumpkin Pies
Looking for a treat that's hauntingly delicious? These Spooky Mini Pumpkin Pies are filled with all of the delicious fall flavors you love, in a tiny pie form! Member's Mark™ Pumpkin Pie Seasoning provides the cinnamon, nutmeg, and ginger taste of a traditional pumpkin pie. These are a fun update to your traditional Halloween sugar cookies!
Ingredients
4

sheets

Puff pastry

2

tbsp

Member's Mark™ Granulated Sugar

2

tsp

Member's Mark™ Pumpkin Pie Spice, divided

1

cup

Libby's 100% Pure Pumpkin

1

Egg

1/3

cup

Member's Mark™ Light Brown Sugar

1/2

tsp

Vanilla extract

1/4

tsp

Salt

1

tbsp

Member's Mark™ Half & Half

1

Egg yolk

1

tbsp

Water
Instructions
If you are using frozen puff pastry sheets, set them out to slightly thaw, up to 40 minutes. They should remain cold but be pliable enough to roll out.

Preheat oven to 400°F degrees.

In a small bowl, combine 2 tbsp of granulated sugar and 1 tsp Member's Mark™ Pumpkin Pie Spice; set aside.

In a medium bowl, combine the pumpkin puree, 1 whole egg, brown sugar, 1 tsp Member's Mark™ Pumpkin Pie Spice, vanilla, salt, and half and half.  Whisk until well combined; set aside.

Roll out the puff pastry sheets so they are about 13 inches long (big enough to create 3 rows of pumpkins).  Use a pumpkin-shaped cookie cutter to cut the puff pastry into pumpkin shapes.  Place 12 of the puff pastry pumpkins on two baking sheets lined with parchment paper. This will be the bottom of your pies. Using a small, sharp knife, cut out Jack O' Lantern faces in the remaining 12 pumpkins.  Use a rolling pin and roll over each Jack O' Lantern once or twice to make it just slightly larger than the bottom pumpkin.

Spoon about 1 tbsp of the pumpkin pie mixture onto the center of each pumpkin bottom.  Use your finger to brush the edge of the puff pastry with water.  Carefully set the Jack O' Lantern Pumpkin on top, lining it up with the pumpkin on the bottom.  Use your finger to gently press together the edges  of the pumpkins.

Whisk the egg yolk with one tablespoon of water.  Brush the egg wash over the tops of the pastries.  Sprinkle with the sugar and spice mixture.

Bake the pies for 15 minutes, until the pumpkins are puffed and golden.