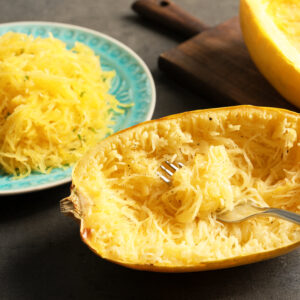 Roasted Spaghetti Squash
Whether you're looking for a healthier pasta alternative or just want to add more veggies into your dinner, this Roasted Spaghetti Squash is perfect for you!
Ingredients
1

Squash

medium sized

1

tsp

Member's Mark™ Extra Virgin Olive Oil

½

tsp

Member's Mark™ Sea Salt

¼

tsp

Member's Mark™ Ground Black Pepper
Instructions
Preheat the oven to 400 degrees F. Line a large, rimmed baking sheet with parchment paper. 

Lay the squash down horizontally on the cutting board. Using a very sharp, sturdy chef's knife, trim off the stem and base end of the spaghetti squash so that you have a flat side on each end.

Stand the spaghetti squash upright on the larger of the two ends, and carefully cut it in half lengthwise from top to bottom. Scoop out the seeds and stringy insides. You can discard the seeds or save them to roast later.

Drizzle the cut sides of the squash with 1/2 teaspoon olive oil each and then sprinkle the salt and pepper over the halves. Rub lightly to evenly coat the insides of the squash.

Place the squash cut-side down on the prepared baking sheet. Do not press any holes in the squash.

Bake for 35 to 40 minutes, until the squash is just fork-tender on the inside, lightly browned on the outside, and the skin gives a little when pressed on the outside (be careful, it is hot!). If your squash is very large, it may be as long as 50 minutes or so, but don't let the squash overcook or your strands will be soggy.

With a fork, fluff to separate the strands. Serve plain, or with your favorite pasta sauce.