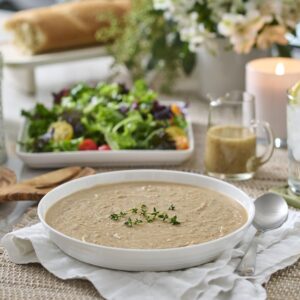 Dash™ Cannellini Bean Soup
Happy New Year to everyone! The holidays are over, and we're going to take a guess that you have 2 things on your mind – getting back to a healthier eating routine (or maybe starting up a new healthy one), and saving some money after all of that holiday spending. If these are the 2 goals you are striving for, we have 1 simple recipe that's going to help you with both of them!  Dash™Cannellini Bean Soup is the warm, comforting, classic soup that needs to land on your meal plan schedule this winter. 
So why does Dash™ Cannellini Bean Soup fit the bill?  To begin with, it's healthy!  Dash™ Cannellini Bean Soup is made with simply beans, celery, garlic, onion, and a little olive oil – plus Dash™ Original Seasoning, so it's nutritious and hearty. 
If you're unfamiliar with Dash™ Original Seasoning, it is an excellent way to add plentiful flavor to your favorite foods, without any salt!  Dash™ is the salt-free alternative for spicing up your favorite meals. Each blend, seasoning packet, or marinade (there are lots of options, but in this recipe we use the "Original" selection) contains a multitude of spices, allowing your palate to enjoy the flavor without the salt. Eating healthy meals doesn't mean skipping out on taste, even when you're making a soup as simple as this one!
Maybe one of your goals this year is to save money without sacrificing any flavor.  Good news!  Dash™ Cannellini Bean Soup features simple, budget-friendly ingredients.  You might even already have most of the ingredients in your pantry!  Just to give you an idea of how affordable Dash™Cannellini Bean Soup is, you could easily feed it to a family of 4 for under $5 a person (and that is probably overestimating the cost)! 
We invite you to try this comforting Dash™ Cannellini BeanSoup this winter and get your New Year off to a fantastic start.
Ingredients
2

tsp

Olive oil

1

tsp

Onion, grated

3

stalks

Celery, thinly sliced

1

small clove

Garlic, grated

3

15 oz cans

Cannellini beans (rinsed and drained)

2

cups

Chicken broth or stock

2-1/2

tsp

Dash™ Original Seasoning

Member's Mark™ Ground Black Pepper, to taste

Member's Mark™ Sea Salt Grinder, to taste
Instructions
Heat olive oil in a large pot over medium-high heat. Add onion and celery; cook, stirring often, until the onion is translucent, about 5 minutes. Add garlic, stirring occasionally until aromatic, about 2 minutes. 

Add the beans and broth to the pot. Bring to a boil over high heat. Reduce heat to medium-low and cook, stirring occasionally, until the vegetables are tender, about 20 minutes. 

If you prefer your soup to be a combination of smooth and chunky, remove 2 cups of the soup and set aside. Using an immersion blender, process the remaining soup in the pot until smooth. Add the 2 cups of soup back into the pot and stir. (If you'd prefer your entire soup to be smooth, just skip this step and puree the entire pot of soup.)

Stir in the Dash™ Original Seasoning, Member's Mark™ Ground Black Pepper, and Member's Mark™ Sea Salt Grinder until combined.
Video