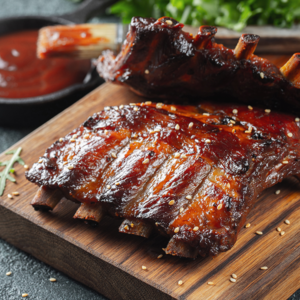 Backyard Babyback Ribs with Molasses BBQ
Does the thought of making your own babyback ribs sound intimidating? Don't worry! Just follow our step-by-step guide and you'll have delicious, saucy ribs that you won't be able to stop eating!
Ingredients
4

racks

Baby back ribs, about 2 pounds each

2

Lemons, cut in half

1/4

cup

Weber® Honey Garlic Seasoning

Soaked wood chips, if desired
Molasses BBQ Mop
1

Bottle or can (12 ounces) of your favorite beer

1

cup

Weber® Sweet & Thick Original BBQ Sauce

1

tbsp

Apple cider vinegar

2

tbsp

Weber® Honey Garlic Seasoning

If desired, additional Weber® Sweet & Thick Original BBQ Sauce
Instructions
Build charcoal fire or preheat gas grill. Remove silver skin from back of ribs, if desired. Set up the grill for indirect heat and if using wood chips, place soaked chips directly on charcoal or in smoking box of gas grill.

Rub the cut lemons over front and back of ribs, squeezing to release as much juice as possible. Set aside for 5 minutes. Rub ribs liberally with seasoning and let sit, covered, for 5 to 10 minutes.

Place ribs (bone side down) in the center of the cooking grate or in a rib holder/rack over Indirect Medium-low heat, making sure they are not over a direct flame. Grill covered (at about 300°F, if your grill has a thermometer) for 1-1/2 to 2 hours or until meat is tender and has pulled back from the ends of the rib bones.

Leave ribs untended for the first 30 minutes – this means no peeking; especially important if using wood chips. If the ribs start to burn on the edges, stack them on top of one another in the very center of the grill and lower your fire slightly. 30 minutes before serving, unstack ribs, if necessary and brush with Molasses BBQ Mop every 10 minutes until they are done. Remove ribs from grill and let rest 10 minutes before cutting into individual or 2 to 3 rib portions. Warm BBQ sauce in a saucepan and serve on the side, if desired.

To make the Molasses BBQ Mop, pour the beer into a medium nonreactive bowl. Add BBQ sauce and vinegar; whisk to combine. Stir in the seasoning and let sit for 10 minutes before using. Funnel into a plastic squeeze bottle or put in a clean glass jar until ready to use. The mop will keep, tightly covered, in the refrigerator for up to 2 days. Shake before using.