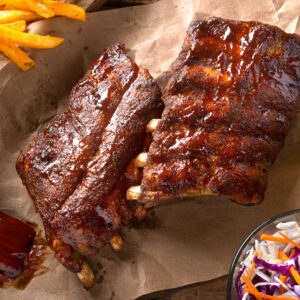 Classic Spare Ribs
You simply cannot go wrong with this Classic Spare Ribs recipe. We promise they will be worth all of the time it takes to make them!
Instructions
Preheat grill to 300 degrees. Spare ribs cook low and slow, so be sure to keep your temperature low throughout cooking.

Line a large pan with foil (or using a foil pan). Pat ribs dry with paper towel and rub Weber® Pork and Rib Seasoning onto both sides, pressing it firmly into the ribs.

Cover and refrigerate for 1 hour or overnight.

Pour apple juice and apple cider vinegar into the bottom of the pan and place ribs in. Cover with foil and grill for 2 hours, or until meat begins falling off the bone.

Be sure your grill grates have been cleaned from any residue. Remove ribs from pan onto a platter and drain the liquid, reserving 1 cup.

Turn grill up to medium-high heat. Put the ribs directly on the grill and cook 5 minutes per side, or until browned and slightly charred.