If you're looking for an easy brunch dish, look no further! This Cinnamon Toast Crunch™ Cinnadust™ French Toast Casserole is a delicious breakfast dish that's perfect for holidays, special occasions, or weekend brunches. It's a sweet and indulgent dish that combines the comforting flavors of bread, eggs, and milk, with a touch of sweetness from Cinnamon Toast Crunch™ Cinnadust™ Seasoning Blend. This blend adds a unique and delicious twist to the classic French toast casserole recipe.
An important note for this recipe is to make sure your French bread is crusty, almost stale. One way to ensure this is to tear your bread and leave it uncovered in a bowl for a day or so. Stale bread will absorb the liquid mixture much better than fresh bread. If you find that the liquid isn't absorbing after pressing down on the bread, try adding some more bread or pouring some liquid out. You don't want the dish to be too runny.
This dish is prepared overnight so the bread can absorb the egg and milk mixture and the Cinnamon Toast Crunch™ Cinnadust™ Seasoning Blend. It might seem like a hassle to make the night before, but it's so quick and easy and makes for an even easier brunch dish the next morning!
While this dish is very family friendly and kid approved, if you're planning on an adult brunch, why not make it boozy? Pour a few tablespoons of Amaretto or rum to the egg mixture to give the casserole a fun kick. Overnight, the bread will soak up the liquid, making the perfect boozy brunch!
Once cooked, top with fresh berries, maple syrup, whipped cream, powdered sugar, or any of your other favorite French toast toppings! Be sure to keep your Cinnamon Toast Crunch™ Cinnadust™ handy for an extra sprinkle or two before serving. Complete your brunch with eggs, bacon, and all of your other breakfast favorites!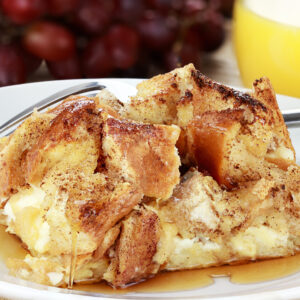 Cinnamon Toast Crunch™ Cinnadust™ French Toast Casserole
Whether you're celebrating a holiday, special occasion, or are just craving french toast, you won't regret making this delicious Cinnamon Toast Crunch™ Cinnadust™ French Toast Casserole! It sits overnight, but we promise, it's worth the wait!
Ingredients
1

cup

Member's Mark™ Light Brown Sugar

½

cup

Unsalted butter

1

loaf

Crusty French bread

cut into bite-sized pieces

2

cups

Milk

6

Eggs

large

2

tsp

Vanilla extract

2

tbsp

Cinnamon Toast Crunch™ Cinnadust™
Instructions
Grease a 9 X 13 inch baking dish.

Stir Member's Mark™ Light Brown Sugar and butter together in a saucepan over medium-low heat for 2-4 minutes, until the butter is melted and brown sugar has dissolved.

Pour brown sugar-butter mixture into the prepared baking dish. Scatter crusty French bread pieces over the top evenly.

Whisk milk, eggs, and vanilla together in a bowl until well combined. Pour mixture over bread pieces, then press down on the bread with a spatula so it absorbs the mixture. Cover the dish with plastic wrap and refrigerate 8 hours to overnight.

When ready to bake, preheat the over to 450 degrees. Remove french toast from the refrigerator and discard plastic wrap.

Sprinkle Cinnamon Toast Crunch™ Cinnadust™ over the french toast.

Bake in preheated oven for 30 minutes, or until the casserole is browned and bubbling.

Once done cooking, cut the casserole into squares and serve!