What makes a cocktail even better on a warm summer's night?  The nutritious, unique flavor of mango paired with turmeric!  This Refreshing Turmeric Mango Marg is just about as healthy as a cocktail can get.  Its simple ingredients include frozen mango, ground turmeric, lime juice, salt, and a dash of chili powder!  (Plus silver tequila, of course.  But if you want to make this super healthy, just leave it out!)
We're sure you're itching to get out the blender and make this Refreshing Turmeric Mango Marg right now, but let's take a look at some of the ingredients first.  (As we mentioned earlier, this cocktail contains only REAL ingredients.  No pre-made mixes with mysterious components in this recipe!)
Mango – a true superhero!
Packed with more than 20 vitamins and minerals, including vitamins A and C
Low in fat and calories
Contains folate, fiber, potassium, and antioxidants
High in healthy plant compounds
Contains immune-boosting nutrients
Supports heart health
May improve digestive health
Tastes amazing!
Now let's take a look at turmeric, another powerhouse ingredient. In this recipe, we are using Member's Mark Organic Turmeric, which is available at Sam's Club.
You've probably heard of turmeric and used it in some recipes, especially when you are looking to add a rich, robust yellow color to your dishes.  But this spice has so much more to offer than its wonderful color!
Turmeric – another superhero ingredient!
Contains anti-inflammatory properties
Helps improve memory
Lessens pain
Helps fight free radicals
Lowers risk of heart disease
Detoxifies the liver
Improves skin health
Can increase the antioxidant capacity of the body
Turmeric will add a robust, peppery taste to this cocktail (but don't worry, it's not burn-your-mouth spicy).  That, along with the fresh lime juice and the glass rimmed with lime juice and chili powder, make this drink exquisitely perfect for summertime!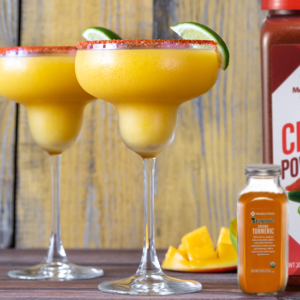 Refreshing Turmeric Mango Marg
What makes a cocktail even better on a warm summer's night? The nutritious, unique flavor of mango paired with turmeric! This Refreshing Turmeric Mango Marg is just about as healthy as a cocktail can get. Its simple ingredients include frozen mango, ground turmeric, lime juice, salt, and a dash of chili powder! (Plus silver tequila, of course. But if you want to make this super healthy, just leave it out!)
Ingredients
1

Lime wedge

1

tsp

Member's Mark™ Chili Powder

1

tsp

Member's Mark™ Sea Salt

2

cups

Frozen mango chunks

1

Lime, juiced

2-3

oz

Silver tequila

1

tsp

Member's Mark™ Organic Ground Turmeric
Instructions
For the Chili-Salt Rim
Run a lime wedge around the rim of 2 glasses. Next, combine Member's Mark™ Chili Powder and Member's Mark™ Sea Salt on a small rimmed plate. Carefully dip each glass in the mixture and twist to fully coat.

In a blender, combine mango chunks, lime juice, tequila, and Member's Mark™ Organic Ground Turmeric. Blend until very smooth.

Divide the margarita between the two glasses, garnish with a lime (or even try a jalapeño), and enjoy!