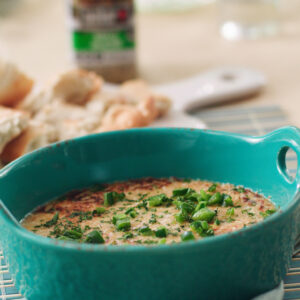 Weber® Garlic Jalapeño Dip
All you need to make the perfect party dip is 20 minutes and 5 simple ingredients. Bring Weber Garlic Jalapeño Dip to your next gathering, or just whip some up for an appetizer at home!
Ingredients
1/4

cup

Unsalted butter

1

cup

Heavy whipping cream

1/2

tbsp

Weber® Garlic Jalapeño Seasoning

3/4

cup

Grated parmesan cheese, divided

Finely chopped jalapeño and finely chopped parsley for garnishing
Instructions
Heat butter in a pan. Add heavy whipping cream. Stir very well. Let it come to a boil.

Add Weber® Garlic Jalapeño Seasoning. Mix well.

Add 1/2 cup parmesan cheese, stir, and let it cook for 6 to 7 minutes on medium heat. Stir occasionally to prevent the sauce from clumping. Remove from heat and transfer dip to a baking dish.

Sprinkle dip with 1/4 cup parmesan cheese and broil at 500 degrees for 1 to 2 minutes, or until light golden brown.

Garnish with parsley and jalapeño. Serve with crusty bread, veggies, or crackers.
Video