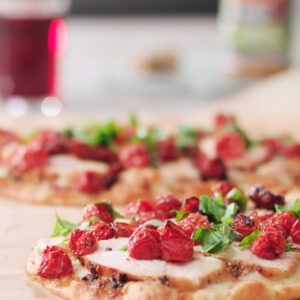 Grilled Chicken Margherita Naan Pizza
Margherita pizza is always a good choice, but we've changed it up a little! First, we've added grilled chicken for some depth, and then we used naan bread for the crust!  (If you're not familiar with naan bread, it is a flatbread similar to pita that uses yogurt for a richer flavor.)
Ingredients
Roasted Cherry Tomatoes
1

pint

Cherry tomatoes

1

tsp

Member's Mark™ 100% Pure Olive Oil

Member's Mark™ Sea Salt, as needed

Member's Mark™ Ground Black Pepper, as needed
Grilled Chicken
1

large

Member's Mark™ Boneless, skinless chicken breast

1/2

tsp

Weber® Garlic & Herb Seasoning
Remaining Ingredients
2

Member's Mark™ Original Stone Baked Naan

2

tbsp

Member's Mark™ 100% Pure Olive Oil, divided (1 per naan)

1

Garlic clove, minced

1

cup

Mozzarella cheese

1/2

cup

Fresh basil, chopped
Instructions
Preheat oven to 400. Place 1 pint of cherry tomatoes on a baking sheet, season with 1teaspoon of Member's Mark™ 100% Pure Olive Oil, Member's Mark™ Sea Salt, and Member's Mark™ Ground Black Pepper. Roast for 10 – 15 minutes.

Meanwhile, season 1 large boneless chicken breast with Weber® Garlic & Herb Seasoning. Place on a medium high grill and grill each side for 5-7 minutes (or until no longer pink). Sprinkle additional seasoning on chicken while on the grill. Remove from grill and let rest. Slice into thin pieces once chicken has cooled enough to touch.

Preheat oven to 350. Place 2 Member's MarkTM Original Stone Baked Naans on a baking sheet. Evenly spread the following between the two naan flatbreads: 2tablespoons of Member's Mark™ 100% Pure Olive Oil, 1 minced garlic clove, 1 cup of mozzarella cheese, sliced chicken breast, and roasted cherry tomatoes.

Bake pizzas for 8-10 minutes, until cheese is melted. Remove from oven and sprinkle 1/2 cup of fresh chopped basil between the two pizzas.
Video