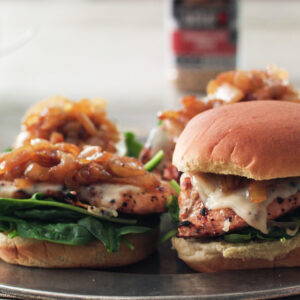 French Onion Chicken Sandwiches
This French Onion Chicken Sandwich is on par with something you'd order at a restaurant – it's that good! Sweet caramelized onions, grilled chicken, melty cheese, and a bit of spinach transform an average chicken sandwich into something extraordinary.
Ingredients
2

tbsp

Member's Mark™ Extra Virgin Olive Oil

2

Large yellow onions

1

Member's Mark™ Bay Leaf

1/2

tsp

Member's Mark™ Sea Salt

2

tsp

Worcestershire sauce

2

Large boneless, skinless chicken breasts, pounded to 3⁄4 inch thickness (or 4 thin-cut chicken breasts)

1-2

tsp

Weber® Caramelized Onion Seasoning

4

slices

Gruyere or Swiss cheese

4

Member's Mark™ Hamburger Buns

2

tbsp

Dijon mustard

1

cup

Fresh spinach leaves

Member's Mark™ Non-Stick Cooking Spray
Instructions
In a large skillet on medium heat, heat 2 tablespoons olive oil. Add the onions,Member's Mark™ Bay Leaf, and Member's Mark™ Sea Salt. Cook until the onions turn a rich, golden brown color and a few turn lightly crisp, stirring often. Remove from heat, discard bay leaf, and stir in the Worcestershire sauce. Set aside.

Preheat a grill or large skillet over medium high heat and brush with olive oil to prevent sticking. Season chicken with Weber® Caramelized Onion Seasoning. Cook chicken until no longer pink and the interior reaches 160°F, turning once, about 4 minutes per side. Top each cooked chicken breast with a slice of cheese immediately after flipping.

Spread the bottom half of each bun with 1-1/2 teaspoons Dijon mustard. Top with fresh spinach, then the cheese-topped chicken, caramelized onions, and finally the top bun half. Serve immediately.
Video