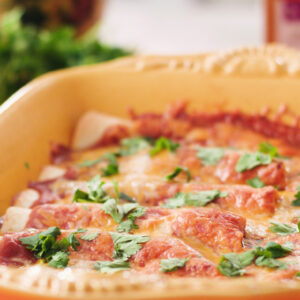 So Cheesy Spinach Enchiladas
Struggling to find a #MeatlessMonday recipe? So Cheesy Spinach Enchiladas to the rescue! This recipe has so much flavor (and cheese) that you won't even notice the meat is missing. Also note: this is a great way to get kids to eat their greens!
Ingredients
1

tbsp

Butter

1

tbsp

Flour

2 cans

(15 oz each)

Enchilada sauce, mild or medium flavor

1

tbsp

Tone's® Taco Seasoning

3

cups

Member's Mark™ Mexican Style Four Cheese Finely Shredded Cheese, divided

10

oz

Baby spinach leaves

8

Flour tortillas (taco-sized works best)

Chopped cilantro, optional
Instructions
Preheat oven to 375. Grease a large rectangular casserole dish or 9×13 inch pan.

In a medium saucepan, melt butter over medium. Stir in flour. Add enchilada sauce. Stir in Tone's® Taco Seasoning. Bring to a boil, then reduce heat to and allow to simmer while you prepare the enchiladas.

In a large bowl, mix spinach and 2 cups of the Member's Mark™ Mexican Style Four Cheese Finely Shredded Cheese. Working with one tortilla at a time, lay the tortilla on a clean surface and evenly distribute the spinach/cheese mixture between each tortilla.

Spread 2/3 cup of your enchilada sauce in the bottom of your prepared baking pan. Roll up tortillas and place side by side seam-side-down in the pan. Spread remaining sauce over enchiladas. Sprinkle with reserved cheese. Bake for 15-20 minutes until cheese is completely melted.

Sprinkle enchiladas with cilantro and serve warm.
Video