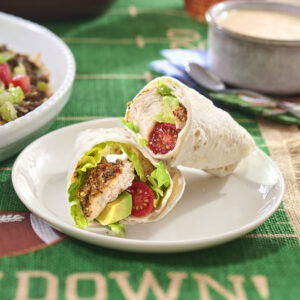 Weber® Kick'N Chicken™ Touchdown Wraps
Chicken is an absolute staple at tailgates. Chicken wings, chicken dip, chicken chili...you name it! All of those are great selections, but what about trying a chicken WRAP for your next pre-game gathering? These Weber® Kick'N Chicken™ Touchdown Wraps feature a little bit of heat (from the Weber® Kick'N Chicken™ Seasoning), plus fun toppings like cheese, avocado, tomatoes, and a little Ranch dressing. Wrap them up and foil and serve burrito-style for extra tailgating convenience!
Ingredients
1-1/2

lbs

Boneless, skinless chicken breasts

Weber® Kick'N Chicken™ Seasoning, as desired

8

Burrito-size flour tortillas

16

Romaine lettuce leaves

3/4

cup

Ranch dressing

2

Plum tomatoes

1

Ripe avocado

8

oz

Shredded sharp cheddar cheese
Instructions
Preheat the grill to medium heat. Sprinkle the chicken liberally with Weber® Kick'N Chicken™ Seasoning.

Once the grill is hot, grill the chicken pieces for 5 minutes per side, or until the internal temperature reaches 165 degrees. Move the chicken to a cutting board and allow to rest for at least 5 minutes. Once the chicken has cooled, chop into ½- inch cubes.

Trim the romaine lettuce leaves to be approximately 3 inches shorter than the flour tortillas. Chopped the tomatoes and avocados into ½-inch cubes.

To Assemble: Lay a tortilla on a cutting board. (If the tortillas are not pliable, briefly warm them in the microwave for 5-10 seconds.) Place 2 trimmed lettuce leaves per tortilla, side by side. Drizzle about 1-½ tablespoons of Ranch dressing on the lettuce. Arrange approximately 1/4 cup of chopped chicken down the length of one lettuce leaf. Then place 2 tablespoons of diced tomatoes and 2 tablespoons of diced avocado over the lettuce leaves. Sprinkle 1 ounce of shredded cheese over the top of the tomatoes and avocados. (Note - you can also sprinkle a little extra Weber® Kick'N Chicken™ Seasoning on the wrap for an additional kick!)

To Roll the Wrap: Fold the ends of the tortilla over the short ends of the lettuce leaves. Then starting on one long edge, roll the wrap like a burrito, tucking in the ends as you roll. The final product should be one equally portioned cylinder with the ends completely tucked inward. Repeat with the other wraps. Cut each wrap down the center, at an angle. Wrap the wrap in foil for extra convenience!